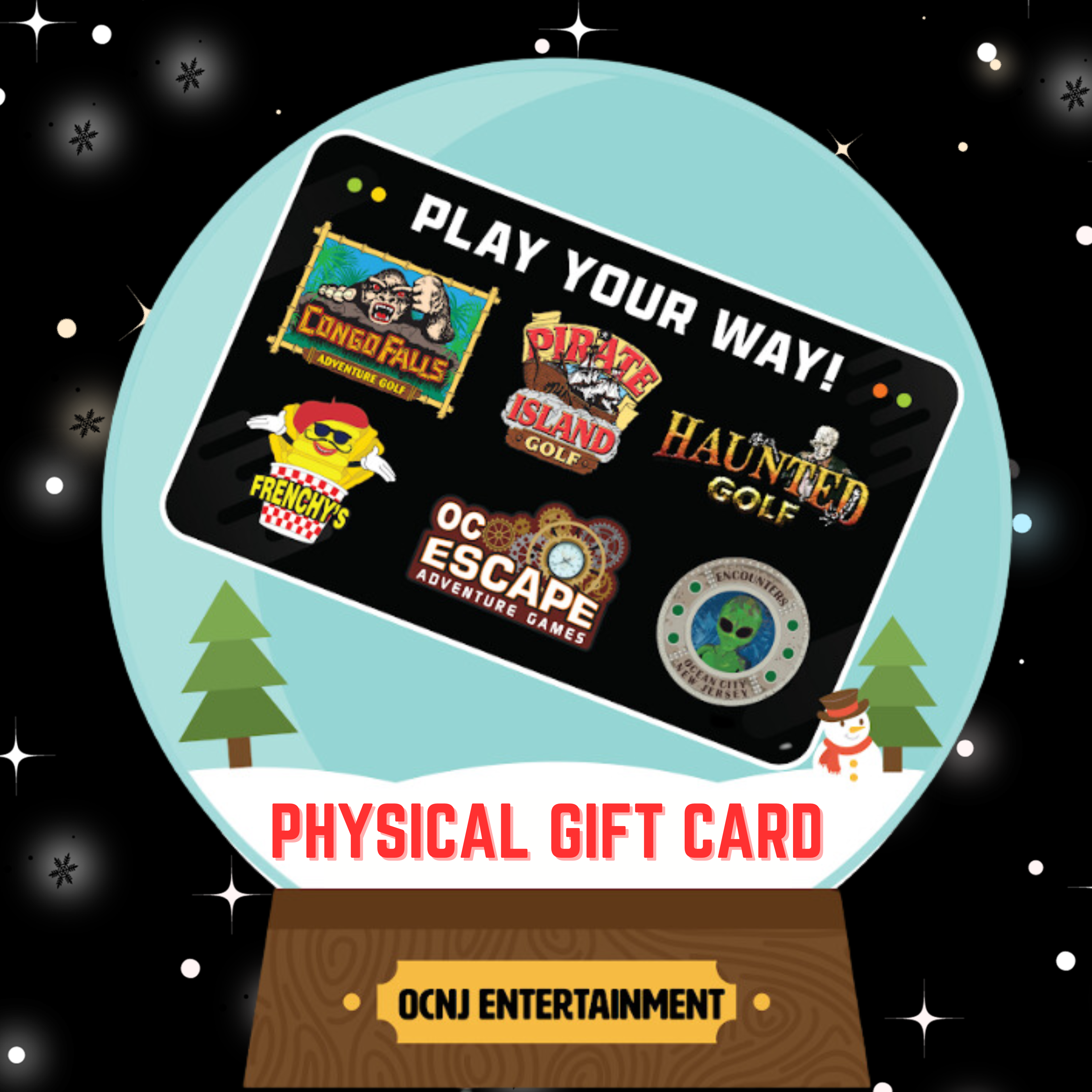 Physical Gift Cards will be mailed within 3 business days upon checkout
COME OUT & PLAY!  ONE GIFT CARD TO RULE THEM ALL… YOU CAN USE THIS AT ANY OF OUR LOCATIONS – USE IT FOR GOLF, MAZES, ENCOUNTERS OR SNACKS!
CONGO FALLS
Take your mini golf on a tropical adventure! Venture into the caves, across the bridge, and beside the waterfalls in our full 18-hole course. Choose from several 18-course options at our two locations; including a 100% indoors and air-conditioned course (perfect for rainy days!) in Ocean City.
Margate: 9312 Ventnor Ave
Ocean City: 1132 Boardwalk
PIRATE ISLAND GOLF
Aarrgh matey – this course is not for land-lubbers!  Go on a high-seas journey through theme-park like attractions of animated pirates, caves, waterfalls, suspension bridges, and pirate ships – a unique adventure for all ages! Play our full 18-hole course at 3 award-winning locations.
Avalon: 27th & Dune Dr
Ocean City: 9th & Haven Ave
Sea Isle – 33rd & Landis Ave
HAUNTED GOLF
Scare up a great time at this Haunted Mansion styled course with chills at every turn! From Bones, your host, to our very own haunted wedding, you'll be sure to have a Boo-tiful time!
Ocean City: 824 Boardwalk (across from The Music Pier)
OC ESCAPE
Every adventure is unique, at the world's first escape rooms where you choose the path you take. Face difficult choices in each, with drastic consequences to the way the game plays out. From the smallest detail to major game changing plot twists – you choose how the story plays out, deciding which puzzles you end up solving. Near limitless possibilities – for unlimited fun!
Ocean City: 826 Boardwalk (across from The Music Pier)
ENCOUNTERS
The action-packed games include 3 mazes: Mirror Maze, Laser Maze, and Time Freak. You'll 'Encounter' fun at every turn including close encounters with a few of our alien friends!
Ocean City:  832-834 Boardwalk
FRENCHY'S
Tame your hunger when playing on the beach or the boardwalk at Frenchy's.  All the food and snacks your family needs to fuel the fun.
Ocean City: 822 Boardwalk